Are you a homeowner exploring options to consolidate your debt? Your home is one of your largest assets. Learn more about using the equity in your home to consolidate your higher interest rate loans or credit card balances.
What should I consider before I consolidate debt?
Before you take steps to consolidate your debt, you may want to consider the following:
One loan replaces many loans
Consolidating debt into a single loan doesn't eliminate your debt; it transfers your loan balances into one loan.
Think twice about using your credit cards
Consider reducing your credit limits or closing accounts. Once your balances have been consolidated into a single loan, your credit card balances will be back to zero. If you do not use discretion with your spending, you may find yourself in even more debt.
Improve your credit
You may benefit from the information and tips available from our Smarter Credit center.
Look into your credit options
Cash-out mortgage refinance

Offers lower interest rates than many other forms of consumer credit.
Mortgage loans have longer payback periods than other types of loans. The longer loan term means you are paying back significantly more interest over the life of the loan.
Personal Loan
Consider this option if you do not own your home or do not want to use home as collateral or if you want to pay off your debt quickly.
Student Loan
If you have more than one private student loan – from Wells Fargo or other lenders – you may be able to combine them into one loan with one monthly payment.
What home financing basics should I understand?
If you obtain home financing, you'll repay more than the amount you borrowed. How much you repay is determined by several factors, including your interest rate and loan amount. Here are some terms you should understand.
Interest rate
The interest rate is the percentage of your loan amount we charge you to borrow money.
Interest rates are based on current market conditions, your credit score, down payment, and the type of mortgage you choose. Check today's rates.
Discount points
One point equals 1% of your mortgage amount. If you qualify, you may be able to pay one or more points to lower your interest rate. A lower interest rate means lower monthly mortgage payments.
Points are usually tax deductible. Consult a tax advisor regarding tax deductibility. On refinances you may be able to finance points as part of your mortgage amount.
Origination charge
On a mortgage, this amount includes all charges (other than discount points) that all loan originators (lenders and brokers) involved will receive for originating the loan.
The origination charge covers items including fees, document preparation, and underwriting costs, and other expenses.
On refinances, if you qualify, you may be able to finance the origination charge as part of your loan amount.
Loan term
Your loan term is the amount of time you have to pay off your mortgage balance.
Shorter loan terms typically mean higher monthly mortgage payments, but often have lower interest rates.
If you pay off your mortgage balance within a shorter term, you may pay less in total interest than with a longer-term mortgage.
Remember that interest rates only tell part of the story. The total cost of a mortgage is reflected by the interest rate, discount points, and origination charges. This total cost is known as the annual percentage rate (APR), which is typically higher than the interest rate. The APR lets you compare mortgages of the same dollar amount by considering their total annual cost.
Monthly mortgage payment
Your monthly mortgage payment is typically made up of four parts:
Principal. The part of your monthly payment that reduces the outstanding balance of your mortgage.
Interest. The part of your monthly payment that goes toward the cost of borrowing the money.
Taxes. The part of your monthly payment that goes toward property taxes charged by your local government. We typically collect a portion of these taxes in every mortgage payment and hold the funds in an escrow account for tax payments made on your behalf as they become due.
Insurance. The part of your monthly payment that pays for homeowners or hazard insurance, which provides protection against losses from property damage due to wind, fire, or other risks. Like taxes, insurance costs are usually collected and paid from an escrow account.
Depending upon your property location, property type, and loan amount, you may have other monthly or annual expenses such as mortgage insurance, flood insurance, or homeowner association fees.
How will you evaluate my home financing application?
When you apply for home financing, we generally use these four main criteria to assess your application.
Income
Do you have a reliable, continuing source of income to make monthly payments?
Income can come from primary, second, and part-time jobs, as well as overtime, bonuses, and commissions.
You may use other sources of income if you want them considered for payment, provided they can be verified as stable, reliable, and likely to continue for at least three years. Some examples include retirement or veteran's benefits, disability payments, alimony, child support, and rental or investment income.
Current debts and credit history
Do you pay your bills, loans, credit cards and other debts on time?
We examine your payment habits before deciding to loan you money.
We also review your credit history and credit score.
It's a good idea to check your credit history and correct any problems before applying. Wells Fargo also offers a series of online credit education videos.
Assets and available funds
Do you have enough funds for a down payment (if you're buying a home) and closing costs?
You may use funds from various accounts including savings accounts, certificates of deposit (CDs), investments, and retirement funds.
If you're buying a home, in some cases, you may be able to use gift funds toward closing costs and all or part of your down payment.
Generally, you'll also need to show that you have additional funds in your accounts to cover several months of mortgage, tax, and insurance payments.
The property
What is the market value of the property you want to finance?
We will order a property appraisal to make sure the value of your property meets our underwriting requirements.
Responsible lending guidelines
We approve applications where we believe the borrower has the ability to repay the loan or line of credit according to its terms. We use two ratio-based guidelines to evaluate your ability to repay.
Debt-to-income ratio
Debt-to-income ratio is the percentage of your monthly income that is spent on monthly debt payments.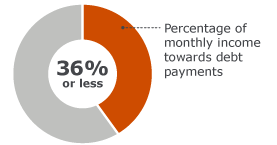 We compare your expected monthly mortgage payment (principal, interest, taxes, and insurance) plus other monthly debt obligations to your gross (pre-tax) monthly income.
Mortgage program guidelines vary, but a good rule of thumb is to keep your total debt level at or below 36% of your gross monthly income.
Housing-expense-to-income ratio
Housing-to-income ratio is the percentage of your monthly income that is spent on monthly housing payments.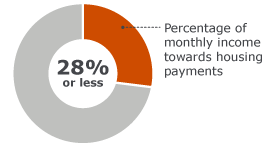 We also compare just your expected monthly mortgage payment (including taxes and insurance) to your gross monthly income.
Mortgage program guidelines vary, but a good rule of thumb is to keep your housing expense level at or below 28%.
Even if you fall within the 28%/36% guidelines, make sure you're comfortable making your monthly mortgage, insurance, and tax payments, in addition to all of your other monthly payments. Remember that homes have other costs — such as utilities, maintenance, and repairs — that may not exist if you rent.
What should I know about consolidating debt?
Our  home equity options are available with no application fees and a choice of closing cost options, and have competitive rates and potential tax advantages.  (Consults your tax advisor regarding the deductibility of interest.)
To get started:
Determine how much your new payment will be with the consolidated loan.
List the type of debt you want to consolidate, such as credit cards, car payments, personal loans, and revolving charge accounts. For each account, have these ready:

o  Account balance

o  Interest rate

o  Minimum monthly payment

o  Time remaining until debt is paid in full

Find out more about home equity rates and payments.
Call to review your mortgage strategy